Ore no Te de SPARKLING!! (俺の手でSPARKING!! Ore no Te de SPARKING!! lit. Sparkling with my Hands!!) is the character song of Mikoto Mikoshiba.
Two versions, vocal and instrumental, were released in the Volume 1 set as a special CD.
Performers
Edit
Personnel
Edit
| | |
| --- | --- |
| Lyrics: | Yoshie Isogai |
| Arrangement: | Chihiro Tamaki |
| Composition: | Takamitsu Ono |
| Publishing: | Media Factory |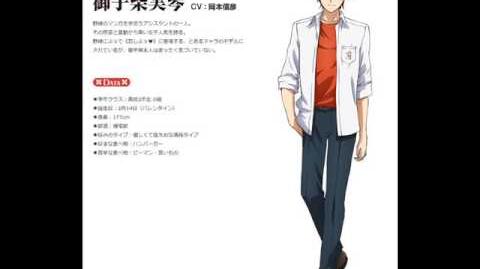 Muki shitsuna square
Tsugi no tenkai mo shirasarezu tada
Odora sarete iru no ka?
Hoho wo akaku somete
Urunda hitomi de mitsumeru heroine
It's show time!!

Saki hokore shoujo ore no te de hora (itsumade mo)
Kagayaite miro donna hyoujou mo makasero
Mono tarinai nante iu nara uketore (sono ryoute de)
Kore kurai? dore kurai? shiru ka yo!

Hikaemena serifu mo
Karei na hana tachi ni kako marereba (donna)
Haato mo inukeru sa

Furi hodokenai nara
Furi hodokazu ni oborete miro yo (isso)
It's show time!!

Mise tsukero shoujo ore no te no naka (dore dake demo)
Kagayaiteru ze donna shiin no toki demo
Kajou da nante sonna wakenai darou (hontou wa naa?)
Motto darou? uso da yo!

Dare no mon ni mo nara nee keredo ima dake wa
Mitete yaru omae dake wa hikarasete yaru!

Tomedonaku shoujo ore iro ni nare (somatte miro)
Motto kagayake hazukashi garazu ni hora
Mada tarine tte kao shite yagaru na (yokubari da na)
Kore kurai? dore kurai? mata ka yo!

Just a robotic square, uninformed about the next development
Are you being made to dance?
The heroine staring at you with cheeks dyed red and moistened eyes
IT'S SHOW TIME!!

Young maiden blooming pridefully, look at what's in my hand (No matter how long)
Whatever facial expressions you make, entrust them to me and try shining
If you say it's not enough, then take it (What's in these hands)
This much? How much? … How should I know–?! (twinkle)

If you're surrounded by magnificent flowers and modest dialogue (No matter what kind)
You can shoot right through their hearts
If you can't shake them off, then try drowning without breaking free (Or better yet)
IT'S SHOW TIME!!

Enchanted young maiden in the palm of my hand (No matter how much)
No matter when or what scene, shine brightly
Saying it's a bit excessive—there's no way that's true, right? (The truth is… y'know?)
You want more, right? … You're lying–!! (twinkle)

I won't become anyone's, but just for now I'll have a look
Now let me see you shine in your very own way!

Endless young maiden, become the same color as me (Give it a shot)
Shine even more, unabashedly—c'mon
You're making a face that says "It's still not enough" (So greedy)
This much? How much? … This again———-?! (twinkle)




無機質なスクエア 次の展開も知らされずただ
踊らされているのか?
頬を赤く染めて 潤んだ瞳で見つめるヒロイン
IT'S SHOW TIME!!

咲き誇れ少女 俺の手でほら(いつまでも)
輝いてみろ どんな表情もまかせろ
物足りないなんて言うなら受けとれ(その両手で)
これくらい?どれくらい?…知るかよっっ!(照)

控えめな台詞も 華麗な花たちに囲まれれば(どんな)
ハートも射抜けるさ
ふりほどけないなら ふりほどかずに溺れてみろよ(いっそ)
IT'S SHOW TIME!!

魅せつけろ少女 俺の手の中(どれだけでも)
輝いてるぜどんなシーンの時でも
過剰だなんてそんなわけないだろう(本当は、なぁ?)
もっとだろう?…うそだよっっ!(照)

誰のもんにもならねえけれど今だけは見ててやる
お前だけは光らせてやる!

とめどなく少女 俺色になれ(染まってみろ)
もっと輝け恥ずかしがらずにほら
まだ足りねーって顔してやがるな(欲張りだな)


これくらい?どれくらい?…またかよーーーーーっっ!(照)
Ad blocker interference detected!
Wikia is a free-to-use site that makes money from advertising. We have a modified experience for viewers using ad blockers

Wikia is not accessible if you've made further modifications. Remove the custom ad blocker rule(s) and the page will load as expected.