Warning: This Wiki Contains Spoiler! Please Read At Your Own Risk.
Welcome to the Gekkan Shoujo Nozaki-kun Wiki

This community is dedicated to providing up-to-date information about the manga and anime series, Gekkan Shoujo Nozaki-kun (Monthly Girls' Nozaki-kun) by Tsubaki, Izumi.
This wiki has 4,413 edits, 212 articles, and 540 images, but many pages are still lacking information and are under construction. Any contributions are much appreciated, so come and help this wiki grow! Contact an admin for assistance.
Synopsis
High school student Chiyo Sakura has a crush on her schoolmate Umetarou Nozaki, who is secretly a shoujo manga artist known as Sakiko Yumeno. When she decides to confess her love to him, Umetarou mistakes her for a fan and gives her an autograph instead. Then, when she says that she always wants to be with him, he invites her to his house, but has her help on some drawings.  Chiyo then discovers Nozaki's secret, but agrees to be his assistant since she has good drawing skills. As they work on his manga "Let's Love~", they encounter other schoolmates who assist them or serve as inspirations for characters in the stories!
Recent Chapter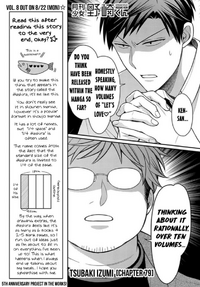 Issue 79

---
In the prologue, Nozaki asks Ken how many volumes of 'Let's Fall in Love' have been released so far. Ken replies that it should be over ten volumes. At Nozaki's apartment, Mikoshiba realises that 'Let's Fall in Love' includes no extras. This is because publishing rates would drop if Nozaki were to spend time making them (volumes with extras are generally released later than volumes without extras). However, Nozaki notes that Mikoshiba has a point. Therefore, he begins to brainstorm ideas for two possible pages of extras.

Featured Article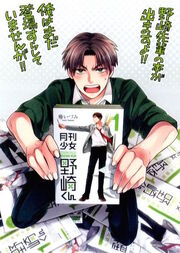 Wakamatsu, Hirotaka

---
Hirotaka Wakamatsu (若松 博隆 Wakamatsu Hirotaka) is in class 1-D, and is one of Nozaki's friends from their basketball team in middle school. He joins Nozaki's staff initially to do erasing,but later on to do tone work. He claims that the only person he cannot stand is Yuzuki Seo, which is somewhat ironic due to the fact he is a fan of the Choir Club's Lorelei, who is actually Seo herself. Strangely, though he has chronic insomnia, he falls asleep within a few seconds when listening to her calming songs.
Featured Image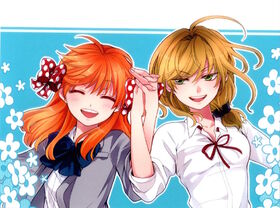 Featured Quote
"Maybe she only knows how to sing anime songs and ends up making the mood really awkward!!!" Mikoto Mikoshiba, Chapter 25
Affiliates
Contact me to request for affiliation.
News
Gekkan Shoujo Nozaki-kun Fifth Anniversary! To commemorate, fans can fill out a questionare to enter the lottery for a chance to win a prize.
Who is your favorite character?
See Past Poll Results
Promotional Video