Ad blocker interference detected!
Wikia is a free-to-use site that makes money from advertising. We have a modified experience for viewers using ad blockers

Wikia is not accessible if you've made further modifications. Remove the custom ad blocker rule(s) and the page will load as expected.
Warning: This Wiki Contains Spoilers! Please Read At Your Own Risk.
Welcome to the Gekkan Shoujo Nozaki-kun Wiki

This community is dedicated to providing up-to-date information about the manga and anime series, Gekkan Shoujo Nozaki-kun (Monthly Girls' Nozaki-kun) by Tsubaki, Izumi.
This wiki has 5,820 edits, 228 articles, and 674 images, but many pages are still lacking information and are under construction. Any contributions are much appreciated, so come and help this wiki grow! Contact an admin for assistance.
Synopsis
High school student Chiyo Sakura has a crush on her schoolmate Umetarou Nozaki, who is secretly a shoujo manga artist known as Sakiko Yumeno. When she decides to confess her love to him, Umetarou mistakes her for a fan and gives her an autograph instead. Then, when she says that she always wants to be with him, he invites her to his house, but has her help on some drawings.  Chiyo then discovers Nozaki's secret, but agrees to be his assistant since she has good drawing skills. As they work on his manga "Let's Fall in Love", they encounter other schoolmates who assist them or serve as inspirations for characters in the stories!
Recent Chapter
Issue 83

---
Ken points out that Suzuki and Mamiko have being engaging in a predictable pattern of events for several chapters in a row. Nozaki decides to enlist the help of Hori and the drama club by having them act out a range of relationship scenarios. Kashima and Sakura join the fun, but will Ken be satisfied by what Nozaki comes up with in the end?

Featured Article
Ryosuke Seo

---
Ryosuke Seo (瀬尾 遼介 Seo Ryōsuke) is the older brother of Yuzuki Seo. He attends an unidentified university and is in the same class as Yukari Miyako, whom he has an unrequited crush on. Ryosuke works part-time as a waiter at a café.
Featured Image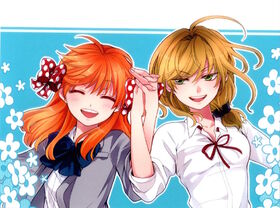 Featured Quote
"Maybe she only knows how to sing anime songs and ends up making the mood really awkward!!!" Mikoto Mikoshiba, Chapter 25
Affiliates
Contact me to request for affiliation.
News
Chapter 84 is released on December 8th!
The results from the questionnaire are out!
Who is your favorite character?
See Past Poll Results
Promotional Video