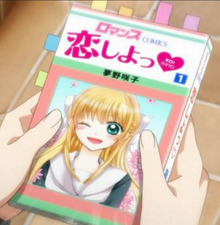 Let's Fall in Love (恋しよっ♡ Koishiyo) is a serial manga published by Monthly Girls' Romance. It is written by Umetarou Nozaki under the pen-name of Yumeno Sakiko.
Depiction
Edit
Let's Fall in Love is Yumeno Sakiko's best selling manga. Despite its sales, it is described by Monthly Girls' Romance employees to be a very orthodox Shoujo with no unique trait or characteristic about it.
Its author, Umetarou Nozaki, would usually research, observe people or conduct social experiments to use as reference for his manga. He got into the Shoujo genre through his little sister, Yumeko Nozaki, who is an avid Shoujo manga fan. Despite writing about love, he himself has never had a first love.
The design of the main heroine, Mamiko, is unknowingly based on Chiyo Sakura's ribbon during the school's entrance ceremony, however, her personality is based on Mikoto Mikoshiba. The main hero, Suzuki, on the other hand, does not have any basis for his design or personality. His face is simply what Nozaki finds easiest to draw and acts like as a typical perfect lover, he is sometimes considered flat or too perfect.
Characters
Edit
Mamiko (main protagonist)
Saburou Suzuki (main hero)
Oze (Waka's love interest)
Waka (Oze's love interest)
Andachi (Mamiko's secret admirer)
Oohashi (Mamiko's friend)
Ryuunosuke (Suzuki's childhood friend)
Saitou
Tayama
Hasegawa
Minoru
Ad blocker interference detected!
Wikia is a free-to-use site that makes money from advertising. We have a modified experience for viewers using ad blockers

Wikia is not accessible if you've made further modifications. Remove the custom ad blocker rule(s) and the page will load as expected.