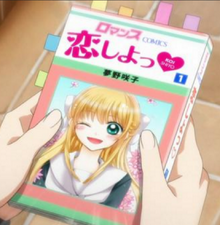 Let's Fall in Love (恋しよっ♡ Koishiyo) is a serial manga published by Monthly Girls' Romance. It is written by Umetarou Nozaki under the pen-name of Yumeno Sakiko.
Characters
Edit
Mamiko (main protagonist)
Saburou Suzuki (main hero)
Oze (Waka's love interest)
Waka (Oze's love interest)
Andachi (Mamiko's secret admirer)
Oohashi (Mamiko's friend)
Ryuunosuke (Suzuki's childhood friend)
Saitou
Tayama
Hasegawa
Minoru
Ad blocker interference detected!
Wikia is a free-to-use site that makes money from advertising. We have a modified experience for viewers using ad blockers

Wikia is not accessible if you've made further modifications. Remove the custom ad blocker rule(s) and the page will load as expected.