Kimi no Hitomi ni Obieteru (君の瞳に怯えてる Kimi no Hitomi ni Obieteru, lit. Your Frightening Eyes) is the character song of Hirotaka Wakamatsu.
Two versions, vocal and instrumental, were released in the Volume 2 set as a special CD.
Performers
Edit
Personnel
Edit
| | |
| --- | --- |
| Lyrics: | Noriko Fujimoto |
| Arrangement: | Masayuki Fukutomi |
| Composition: | Noriko Fujimoto |
| Publishing: | Media Factory |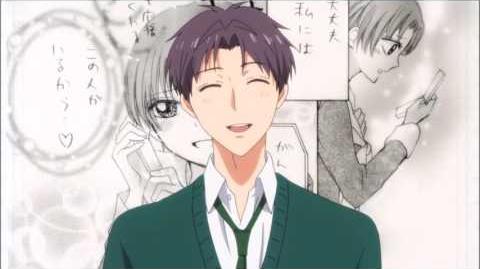 Houkago ta ii kukan ni hibiku gisei sha no himei
Ganmen basuketto bouru chokugeki sutoresu wa sa ikou chou
Senpai da shi josei nan da shi chotto ki wo tsukatteta keredo
Kono sai hakkiri to iwasete itadaki masu
Mou meiwaku nan desu!
Nemurenai nemuritai nemurasete yasuragi kaeshite kudasai
Sotto me wo tojiru to yomigaeru ano itami to kyoufu ga
Sono ue taagetto wa ore dake yokei ni me ga saeru
Ashita mo tatakau nda ore nari no yari kata de
Mazu wa genki ni aisatsu kara
Kiraku shoujo manga kore koso shouri no baiburu
Kyou koso to kono kimochi butsukete mo aite ni mo sare nakute
Demo shinpai iranai kiseki no you na utagoe ni
Meguri aeta nda kagayakashii sono na wa
Seigaku bu no Lorelei-san desu!
Konya mo gussuri to nemure masu yasuragi no san byou mae
Sono koe wa masashiku kyuu seishu ore nito tte megami sama
Dare ka to chigatte kokoro no yasashii hito datte koto
Ore ni wa wakaru nda kono yorokobi wo komete
Itsuka tsutaetai arigatou
Nemurenai nemuritai nemurasete yasuragi kaeshite kudasai
Sotto me wo tojiru to oso tte kuru ano futeki na warai ga
Demo daijoubu yume e izanau kono uta ga aru kagiri
Ashita mo make nai nda sei sei dou dou iki masu
Sore ja genki ni aisatsu kara!
Senpai ohayou gozaimasu!

放課後 体育館に

響く 犠牲者の悲鳴

顔面 バスケットボール直撃

ストレスは最高潮

先輩だし 女性なんだし

ちょっと気を遣ってたけれど

この際ハッキリと

言わせていただきます

「もう迷惑なんです!」

眠れない 眠りたい 眠らせて

安らぎ返してください

そっと目を閉じるとよみがえる

あの痛みと恐怖が

その上 ターゲットは俺だけ!?

余計に目がさえる

明日も戦うんだ 俺なりのやり方で

まずは元気に挨拶から

開く少女漫画

これこそ勝利のバイブル

今日こそと この気持ちぶつけても

相手にもされなくて

でも心配いらない

奇跡のような歌声に

巡り会えたんだ

輝かしいその名は

「声楽部のローレライさんです!」

今夜もぐっすりと眠れます

安らぎの3秒前

その声はまさしく救世主

俺にとって女神様

「誰か」と違って

心のやさしい人だってこと

俺には分かるんだ

この喜びを込めて

いつか伝えたいありがとう

眠れない 眠りたい 眠らせて

安らぎ返してください

そっと目を閉じると襲ってくる

あの不敵な笑いが でも大丈夫 夢へ誘う

この歌がある限り

明日も負けないんだ 正々堂々いきます

それじゃ元気に挨拶から!

「先輩、おはようございます!」

Ad blocker interference detected!
Wikia is a free-to-use site that makes money from advertising. We have a modified experience for viewers using ad blockers

Wikia is not accessible if you've made further modifications. Remove the custom ad blocker rule(s) and the page will load as expected.