Boku no Heroine (僕のヒロイン Boku no Hiroin lit. My Heroine) is the character song of Saburou Suzuki.
Two versions, vocal and instrumental, were released in the Volume 6 set as a special CD.
Personnel
Edit
| | |
| --- | --- |
| Lyrics: | Aiko Nakano |
| Arrangement: | Makoto Miyazaki |
| Composition: | Kohei (SIMONSAYZ) |
| Publishing: | Media Factory |
| Mixing: | Kenichi Fukuhara |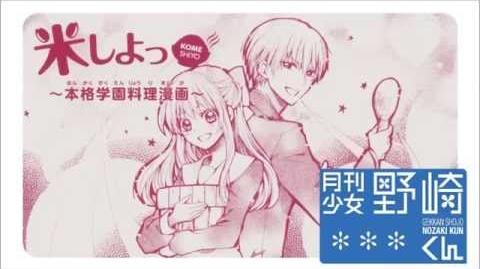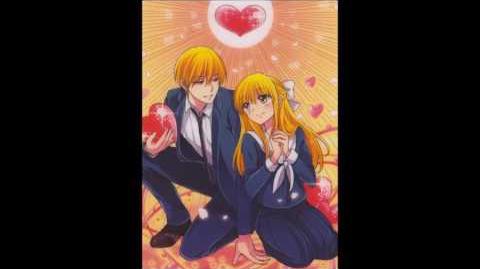 Sore wa totsuzen ganbari ya no kimi ga fui ni koboshita kesshou
Ikinari furikireta hari ga tsugeru yo hajimari no toki
Sugu ni akaku irodzuku hoho ga hokoronde yuku
Nando mita tte aki yashinai no wa kono kimochi ga honmono dakara
Yuuki dashite kureta "ohayou" ya
Torimidashita shigusa fuseta matsuge sono subete ni muchuu da yo
You're My Treasure
Sukoshi hayaku mitsukerareta ano ichiban boshi mitai na onnanoko wa
Futsuu ni mieta no ni futsuu ja nai
Nagaretari nanka shinaide zutto boku no soba de KIRA KIRA shite ite yo
HIROIN wa tada hitori dakara
Boku wo miageta futatsu no me ni ureshi sou ni hikatta kesshou
Houkago made matenai jitensha ni nose saratte shimaitai
RAIBARU-tachi takusan no naka massugu boku ni todokete kureta
Kotoba wa nakute mo sono kimochi wa honmono datta
CHAIMU no oto ni sekasareru you ni
Kimi no kyoushitsu he mukae ni yuku yo shikkari tsukamattete
First love story
Hiroi sora de hitokiwa kagayaku ichiban boshi mitai na onnanoko wa
Futsuu da to omottara tokubetsu datta
Tokidoki kumo ga wo jama wo shita tte make mo sezu ni KIRA KIRA shite ite yo
HIROIN wa sou tada hitori nanda
Dare mo ga ashi wo tomete miageta ichiban boshi mitai na onnanoko wa
Nakimushi nanda kedo tsuyoi ko nanda
Tokidoki tsuki ga ijiwaru shite mo kyou mo takai tokoro de hikatteru
Machigainai yo boku no HIROIN

それは突然 がんばり屋の君がふいにこぼした結晶
いきなりふりきれた 針が告げるよ はじまりの瞬間(とき)
すぐに赤く色づく頬がほころんでいく
何度見たって飽きやしないのはこのキモチが本物だから

勇気出してくれた「おはよう」や 
取り乱した仕草 伏せた睫毛(まつげ) そのすべてに夢中だよ
You're My Treasure

少し早く見つけられたあの一番星みたいな女の子は
普通に見えたのみ普通じゃない
流れたりなんかしないでずっと僕のそばでキラキラしていてよ
ヒロインはただ1人だから

僕を見上げたふたつの瞳に嬉しそうに光った結晶
放課後まで待てない 自転車に乗せさらってしまいたい
ライバルたちたくさんの中 真っ直ぐ僕に届けてくれた
言葉はなくても そのキモチは本物だった

チャイムの音に急かされるように
君の教室へ迎え行くよ しっかりつかまってて
First Love Story

広い空でひときわ輝く一番星みたいな女の子は
普通だと思ったら特別だった
ときどき雲がお邪魔をしたって負けもせずにキラキラしていてよ
ヒロインはそう1人なんだ

誰もが足を止めて見上げた一番星みたいな女の子は
泣き虫なんだけど強い子なんだ
ときどき月が 意地悪しても今日も高いところで光ってる
間違いないよ 僕のヒロイン

Ad blocker interference detected!
Wikia is a free-to-use site that makes money from advertising. We have a modified experience for viewers using ad blockers

Wikia is not accessible if you've made further modifications. Remove the custom ad blocker rule(s) and the page will load as expected.